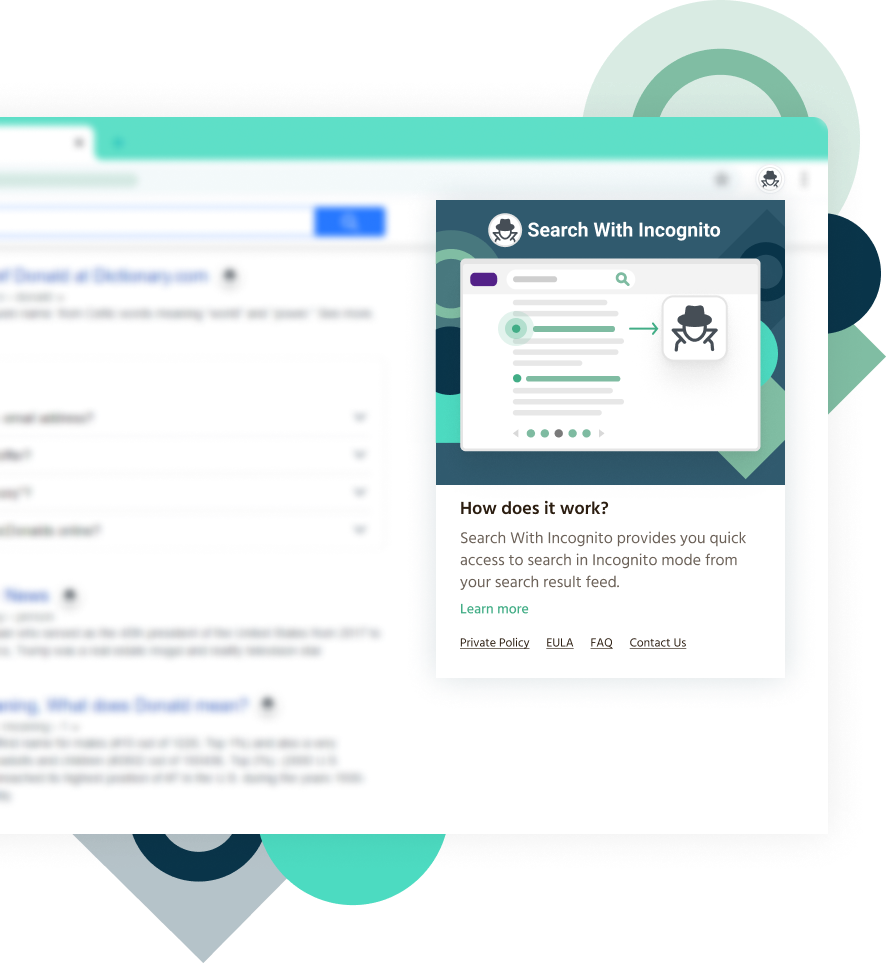 PRIVATE BROWSING IN A SIMPLE CLICK
Many internet users are aware of the importance of privacy when browsing the internet. However, not everyone remembers to switch into the Incognito mode and protect your internet footprint in each and every search. Our extension provides you a simple and quick access to search in Incognito mode by adding an icon next to non-commercial results in your search feed. Click and go!
incognito mode never been easier
After this extension has been successfully installed on your browser, the default search engine will be changed to Yahoo. When you search, a simple Incognito icon will be added next to each organic search result (non-commercial). A simple click on the icon will lead you to search for the same content in a new browser window in the Incognito mode.

Changing your default search engine to Yahoo
In order to add the Incognito icon to non-commercial organic results in your search feed, we need your permission to change your default search engine to Yahoo. If you do not want to use Yahoo as your default search engine, you can switch to Google or Bing in the settings of the extension dashboard.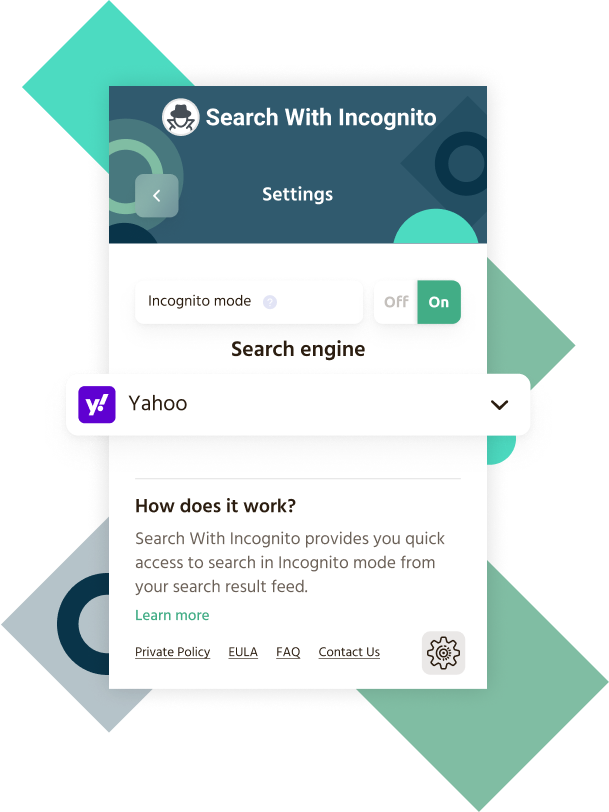 Do you have a question for us?
Many people are concerned of their online footprint and want to protect their search history. But not all of them remember to go into Incognito mode when they search for sensitive information. Our extension provides a quick access to Incognito mode directly from your search feed.
By clicking on the Incognito icon next to each organic (non-commercial) search result in your search engine's result feed, you can open a new window and search for the term in the Incognito mode.
Unfortunately, at the moment we only work with Yahoo. We cannot add the Incognito icon in the search result feeds of other search engines. That is why we need to change your browser's default search engine to Yahoo in order to provide the functionality.
You can click on the extension's browser icon and open the mini dashboard. Swipe on and off the button of "Search With Incognito" at any time.
Incognito mode is a functionality provided by your browser. We are only an enabler for quick and simple access to Incognito mode. We cannot promise for an 100% safety or privacy of Incognito mode on behalf of the user.
Yes, it's a free extension.